Sons Of Slots Casino Review 
The year 2020 saw the launch of a myriad of fresh gaming sites, including the subject of today's review, Sons of Slots. This casino house offers its customers traditional gambling entertainment, with the usual requirement to open an account before playing. It is a so-called full-service house, as in addition to casino games and live tables, there is also betting available.
The very name of the casino operator suggests that it must have something to do with a kind of club activity. A glance at the front page confirms this assumption, with a banner featuring two members of a motorcycle club in leather jackets. Sons of Slots is their own motorcycle club, inviting all players to join them on an exciting but safe adventure.
The slot is run by a Maltese company called L.C.S. Limited. It is a relatively young organisation, having launched its first casino site in 2018, with its first casino cave called SvenPlay, followed by Wallacebet in 2020 and Sons of Slots, which is being launched today.
Now, we'll turn our binoculars to the latter casino site, which we're going to dissect next. During our review, we'll take a look at the site's money transfers, customer service, game selection and interface, among other things. We've got some really comprehensive information to cover, so get on your bike and jump on the bandwagon.
Website Theme and Look 
The theme of the casino is strongly linked to motorcycles and club activities, and of course this is evident right from the front page. The name of the operator and the look of the site suggest that the founders have gone for the atmosphere of a well-known TV series. However, the implementation is rather lazy and the credibility of the theme is shaken in places. Sons of Anarchy comes to mind mainly because of the name, and the artwork is only remotely related to this top series.
The casino site is clearly trying to convey a grumpy, macho image. "No guts no glory! Buckle up!" is such an impressive motto that they haven't even attempted to translate it. Behind the phrase stand two club members whose credibility is at rock bottom. Both have rather indignant expressions on their faces, and the taller guy is even shaking his fist menacingly.
The motorbike theme is barely visible on the website, apart from the top banner and the logo. The colours used by Sons Of Slots are black, grey and red, which on the other hand match the theme of the venue quite well. All in all, it can be said that the theme has not been executed in the best possible way. The male characters look rather thin, and the dead-looking club members look rather ridiculous.
User Experience & Usability 
However, many players value ease of use more than a great and well-maintained layout. Ease of navigation is particularly important, and this is clearly something that Sons of Slots has put a lot of effort into. The site has no top bar at all, with sidebars on either side of the page that are visible at all times.
On the left-hand bar are buttons for login, registration, game selection, promotions and more. On the right-hand side are buttons related to your personal account, such as rewards, favourite games and recently played games. So one bar contains buttons to navigate to the general pages, and the other bar contains buttons to navigate to your personal items. Quite a handy and clever solution.
It's easy to navigate around the site, and the buttons make it quick and easy to find all the information you need. No information is hidden behind a lot of clicks, but all the information is very easily accessible. On top of all this, the site also works well on both the desktop and mobile versions. In terms of usability, the casino site has everything in very good shape.
Sons Of Slots Casino Bonuses
It must have been payday at the club, because these guys on the street have uploaded a pretty nifty welcome package for new club members. In fact, first-time depositors at Sons Of Slots can enjoy a benefit that includes a 100% deposit match up to €200 and 50 gratis spins.
First deposit: 100% bonus up to €200 + 50 gratis spins
This is a very tough offer, currently giving you €200 in play money and a nice bundle of gratis spins on Pragmatic Play's John Hunter And The Mayan Gods. The minimum deposit to activate the promotion is €20, so you can get in with a little less money if you want. At the very least, it's worth spending a small fortune to clear the free spots, if nothing else.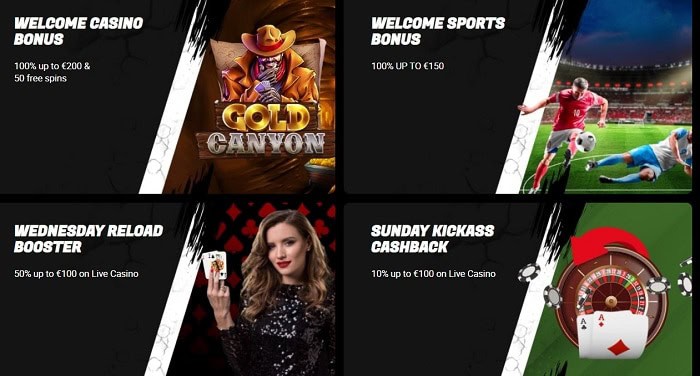 Sons Of Slots Casino Games 
In line with other casino sites, the games catalogue on offer opens up right from the homepage, but only a few game categories are presented to start with. However, the full selection is waiting for you behind the "Games" button on the sidebar. This games library is divided into four main categories: popular games, new games, live casino, and all games. So, at a glance, it would seem that there are few listings, and browsing through the games will be quite a chore due to the large categories.
However, this is not the case, as there is a 'more filters' button on the right-hand side, behind which you will find a nice number of different filtering options. Games can be filtered by different categories such as slot machines, jackpots, or table games. In addition to these options, games can also be filtered by theme. Examples of themes include Christmas, pirates, and horror.
You can also filter by game manufacturer, but the selection cannot be restricted by game features at all. For example, there is no separate category for Megaways, but all these MW games are placed in the slot machine category. At least for me, it would be more important to be able to search for games by feature than by some visual theme. If I want to play Megaways, for example, I don't give a damn whether the theme is Christmas or Easter.
Software 
Casino games are provided by a total of 15 game providers, supplying close to 1000 different games. There are several smaller game manufacturers such as Spigo, Medialive and Fugaso. In addition to these, however, there are also many of the most popular providers, such as Play'N Go, Pragmatic Play, NoLimit City, and NetEnt. These game providers ensure that you will find a wide variety of quality games to play.
The main focus of Sons of Slots is on slots, but there are also games such as table games and scratch cards. In addition to the casino games, there are a large number of live games, which are provided by Evolution Gaming. On top of all this, players are also offered the option of betting. This casino has all the services under one roof, and players can not only enjoy gambling but also bet.
Slots
Traditional coin-operated slots take up the majority of the games on offer, so there's quite a nice variety to choose from. There are both traditional three-reel slots and today's most modern and cutting-edge video slots. So there's plenty of variety in store for fans of these mills.
There are many long-standing favourites to be found in the range, such as Book of Dead, Reactoonz, Starburst, Fruit Party and many more. New releases are also actively added to the selection, and new content can be easily checked out in the dedicated games category.
Jackpot Games
Fans of this list will be sadly disappointed as there are no games to be found. There is a dedicated category for jackpots, but it is empty. Either it is designed to fool the innocent gambler, or it is designed for future modifications. Hopefully, it's the latter, and the Sons O fSlots range will be updated soon. For now, jackpot game enthusiasts will have to seek that entertainment at other venues.
Megaways Games
There is no category for the games in this section, but the search function makes it easy to find them in their own section. All 15 games in the Sons Of Slots range can be conveniently listed by entering "Megaways" in the search bar. When you do this, you don't have to wade through a huge selection of vending machines and search for MW games one by one.
The selection consists mainly of games from iSoftBet and Pragmatic Play. These include Megaways versions of the popular The Dog House, Twin Spin, and Divine Fortune slots. A few of the most popular games are missing, but there is still a good variety to choose from.
Live Casino & Table Games
The real-time table games on offer are also frankly disappointing. Sons Of Slots has 11 games in total, 7 of which are supplied by Evolution Gaming and 4 by Medialive. The range is disappointing because only a fraction of Evolution's top-quality games have been included. Evolution does list live table games, but there is not a single Game Show-style game in the line-up. That's a shame, as Game Shows have become very popular recently.
However, the live casino does offer access to all the main table games, namely baccarat, poker, roulette, and blackjack. Roulette can be played in several different games, but otherwise, there is only one option for each game. In addition to the games mentioned above, there is also the dice game Sic-Bo and the card game Dragon Tiger. However, the selection is very limited.
Sons Of Slots Casino Support 
There are two ways to contact customer service, email and live chat. In the bottom right-hand corner of the page, there is a small clock image which, when clicked, opens two other buttons. One button takes you to the live chat form and the other to the contact form. Players can choose between these two methods of contact, or send an email directly to the address provided ([email protected]).
Multilingual customer support is available to players 24 hours a day, 7 days a week. However, in case of a chat, you may be redirected to an English-speaking customer service representative if the service is congested. Emails are also answered 24/7 at Sons Of Slots Casino, and you can always expect a reply in your native language.
There is also an FAQ section for customers, which can be accessed via the button on the left sidebar. This section contains over 40 questions and answers, which you should consult if you have any problems. If the problem cannot be solved with the help of this section, you should immediately go to Aspa. For urgent matters, jump on the chat lines, and for non-urgent or complex issues, send an email.
Sons of Slots Casino Payments 
There are a number of different payment methods available to move money between the customer and the casino operator. Options include the traditional credit cards Visa and Mastercard, the even more traditional bank transfer, the ever-growing Euteller, and the online wallets Neteller and Skrill. There is also Trustly, which has become one of the most popular payment methods among players.
With more than 10 different payment methods available, every player is sure to find an option to suit their needs. Trustly is perhaps the most convenient payment method, as payments are made directly through it using bank codes. Everyone will have a bank account that allows the money to go both ways between the casino and the player.
Deposits are processed automatically, and the funds deposited are immediately reflected in your account. However, withdrawals are not automatic and are manually approved by Sons Of Slots staff. The casino website states that it aims to process withdrawal requests within 4 hours, but no later than 24 hours. As a rule, withdrawal requests are therefore processed in a rather speedy manner.
However, the actual time taken for withdrawals depends on the payment method used. Withdrawals with Trustly and online wallets are the fastest, with the money appearing in your account within minutes of the withdrawal request being approved. With credit transfers or credit cards, for example, it can take up to five working days for the money to arrive in your account. So the differences are big, and if you want to have smooth access to your money, you should opt for online bank transfers or online wallets.
Sons of Slots Casino Licence 
As with other L.C.S. Limited gaming sites, Sons of Slots is licensed to operate in Malta (MGA/B2C/312/2015). This is very good news for our players, in more ways than one. The most visible advantage of this MGA licence is that all winnings are completely tax-free. So you don't have to pay a single cent to the taxman, because every single euro withdrawn is completely tax-free income.
Another great thing about this operating licence is the security and quality it brings. This licence is only granted to trustworthy gaming venues with a first-class level of operation. So this licence is not granted to just anybody, but you have to meet very strict criteria in order to obtain it. The gaming authorities in the island state also monitor and regulate the activities of licensed operators very closely. All casinos operating under the regulations of this country are always reliable and of high quality.
Sons of Slots Trustpilot Reviews 
"The game selection consists mainly of slot machines, but that's good enough for me. I found all the best games that I like to play anyway."

"The welcome offer caught my attention and I followed it to the casino page. The theme doesn't really appeal to me, but otherwise I like the way the casino site works. Good rotating promotions too!"

"I was able to get withdrawals into my account at a pretty good pace, even though this is not a bankcard casino site. There could have been more jackpots, of course, and the live section was also disappointing, even though I rarely play live."
The Motorcycle Club Casino has had time to gather good feedback from customers. The theme has not been to everyone's liking, but it has not been roundly condemned either. The slot machine category is full of quality stuff, but the other games could do with some improvement. There is a complete lack of jackpots and the live casino has a rather limited selection of games.
However, the welcome offer has been a hit with customers. The deposit bonus and gratis spins have been well received, as well as other promotions. Sons Of Slots Casino offers weekly and rotating promotions with cash value benefits. Overall, customers have been happy with the way this gaming venue operates.
Is Sons of Slots for me?
As a site, this individual is particularly well suited to players who like to spin slot machines. These slots are well represented, and there are games to suit all tastes, from traditional slot machines to modern video slots. For example, there are no jackpots at all and the live casino is in a poor state, but the slots are booming. So if you play mainly slot machines, go for Sons of Slots.
The casino is also a good choice for players who like to bet. There are a huge number of different types and types of bets to choose from. There are also Finnish destinations, and you can bet on games in the Ice Hockey League, for example. On the betting side, there are also promotions and a special welcome offer. Bettors will also enjoy this gaming site.
The promotions are also in order, right down to the welcome offer. If you are looking for a variety of benefits to go along with your gaming, this casino is a great option for you. The welcome offer is at least good enough to be worth grabbing, even if the casino doesn't appeal to you otherwise.
Is Sons of Slots a scam?
L.C.S. Limited, the company responsible for operating the site, has several years of experience in running the sites. Following the popularity of SvenPlay, which was launched in 2018, the company decided to launch two new casino caves in 2020, one of which is of course Sons of Slots, which is the one we are discussing today. We can already state briefly that this is not a scam, and there are many reasons for this.
All the payment methods used are reliable and well-known players. There are no shady-sounding methods of transferring money that could set off alarm bells. Money transfers are also secure thanks to SSL encryption. This encryption prevents money from falling into the wrong hands.
However, the MGA gaming licence is the best indication of the operator's reliability. The Maltese gaming authorities, which issue the licence, monitor the operation very closely and will intervene in the smallest details if necessary. If a casino operator has this licence, it can automatically be said to be a fully honest and trustworthy gaming establishment.
Every player can therefore enjoy casino entertainment here with complete peace of mind. This is not a scam, but a fair gaming site.
Summary and Verdict 
Established in 2020, the casino offers its players a wide range of services, from basic cash games to live tables and betting. However, it has to be said right away that quality has not kept pace with quantity. The lack of quality is already visible in the games, as there is a complete absence of jackpots, for example. Only slot machines are really well represented.
The live section, on the other hand, only offers just over 10 games, only a little over half of which are Evolution games. In this respect, Sons Of Slots has a limited offering, which is in dire need of improvement. A weak live casino can be a major pitfall, as live games are very popular these days. The name is dedicated to slot machines, and so is the game selection at the moment.
If the shortcomings of the game selection are not taken into account, this is a quality and fairly traditional Maltese operator. The interface is good and easy to use, customer service is available 24 hours a day and money flows are brisk in both directions. There are also rotating promotions and a great welcome offer that is well worth taking advantage of.
Sons Of Slots FAQ 
Is Sons Of Slots a reliable online casino?
Yes. L.C.S Limited has done a great job on this product and the end result is a very reliable casino site where playing is always safe.
How do I open an account at Sons Of Slots Casino?
You can open an account by filling in a separate contact form on the casino website. You can easily access this individual form through us.
Where can I read about Sons Of Slots Casino?
In this review, you can read the latest feedback and players' thoughts on how this gaming site works.
Does Sons Of Slots offer bonuses and gratis spins?
The player's machine is made to spin effortlessly with €200 in bonus incentives and 50 gratis spins offered to new players on their first deposit.
How fast is banking at Sons Of Slots Casino?
The speed of money transfers varies depending on the payment method. Deposits are instant, but the time taken to withdraw is affected by the player's choice of payment method.
Is Sons Of Slots Casino a scam?
It is not a scam by any measure, but a trustworthy casino operator under the proper supervision of the gaming authorities.